Weekend Jaunt Recap Part 2
Exploring our hotel – Hilton @ Resorts World Bimini
Getting Around the Island
Day Partying @ Resorts World Bimini Beach
Eating & Drinking Our Way Through the Weekend
Resorts World Bimini Recap – Destination Relaxation
In Part 1 of my Weekend Jaunt recap, I shared what it was like to catch the Balaeria Caribbean ferry from Ft. Lauderdale to Bimini, Bahamas. In this part, I'll take you through the rest of the weekend. I have notes on the hotel, where we ate and drank, getting around the island and attending the day party at Bimini Beach.
Entering a Tropical Escape
Once we checked into the hotel, we enjoyed the complimentary rum punches being offered near the concierge's desk. I'm not sure if they had alcohol in them, but it was a nice touch.
Our room was quite well appointed and modern. We weren't lucky enough to get the pool view. Our balcony was on the street side. However it was very quiet and obscured by beautiful palm trees.
Exploring Our Hotel Hilton @ Resorts World Bimini
They had two pools…one for the kids… one for the boos. If you read that to the tune of 2 Phones by Kevin Gates, you're my people!
The first is a lagoon pool that flows along the outside of the first floor. This one has a swim up bar and the rooms on that end of the hotel open up to the pool. You can step right from your room balcony into the water.
The awkward thing though is that if you get in the pool on that side, you're swimming outside someone's balcony. Like, do you sit on the ledge on the room side of the pool? That's a little weird. I wouldn't want to hear people splashing around right outside my room. You might not care about that though.
The second pool is an adults only infinity pool on the rooftop. There is a bar up there also where you can order food and drinks.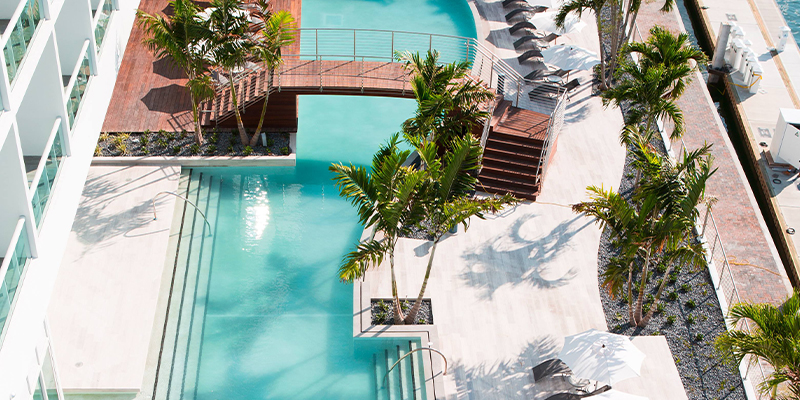 Eating & Drinking Our Way Through the Weekend
Friday
The restaurant we chose was at the Bimini Big Game Club Resort & Marina. The Hemingway hotel/motel was also at this location. I wasn't too hungry, so I just ordered a plate of French fries and a ginger beer.
This is where I'll note that there is no particular Bahamian cuisine. You can expect typical vacation food. I believe the goal is to suit many different taste palates. So, nothing is going to be too spicy. The residents of the island probably prepare their dishes with way more flavor than you'll find at one of the tourist restaurants. So, other than extremely fresh seafood, don't expect culinary masterpieces.
Everyone raves about Bahamian bread. It's a thick white bread. I'm not sure why it's so popular.
That night we got dinner at the Asian restaurant back at the Hilton. My bestie and I split the shrimp fried rice and spring rolls. It was good. It was flavorful enough, or we could've just been super hungry.
Saturday
After the Day Party, we headed back to the hotel to shower and change for dinner. We were celebrating my sister's birthday, and she chose to hit the 'fine dining restaurant' to eat. We told the hostess that we were celebrating and asked them to do something to recognize her. I had pizza for dinner. I wasn't that hungry and I didn't want to spend a lot of money on a meal that would be mediocre. The pizza was $20 and it was mediocre. LOL The crust wasn't crusting. So, I just moved all of the pepperoni and sausage (it was a meat lover's pizza) to a quarter of the pie and just ate those three slices. A few people got the salmon and enjoyed it. Just as we were reviewing our bills, what sounded like a marching band came dancing towards our table with what looked like a birthday cupcake. It was super cute and the birthday girl enjoyed it.
Sunday
Sunday was our final day and the ferry was departing at 6p. We had the whole day to chill out. We requested a late checkout, then went in our pjs to get breakfast at The Tides restaurant. They had all of the usual breakfast fare: bacon, eggs, sausage, fresh fruit, toast, muffins and an omelet station.
Getting Around the Island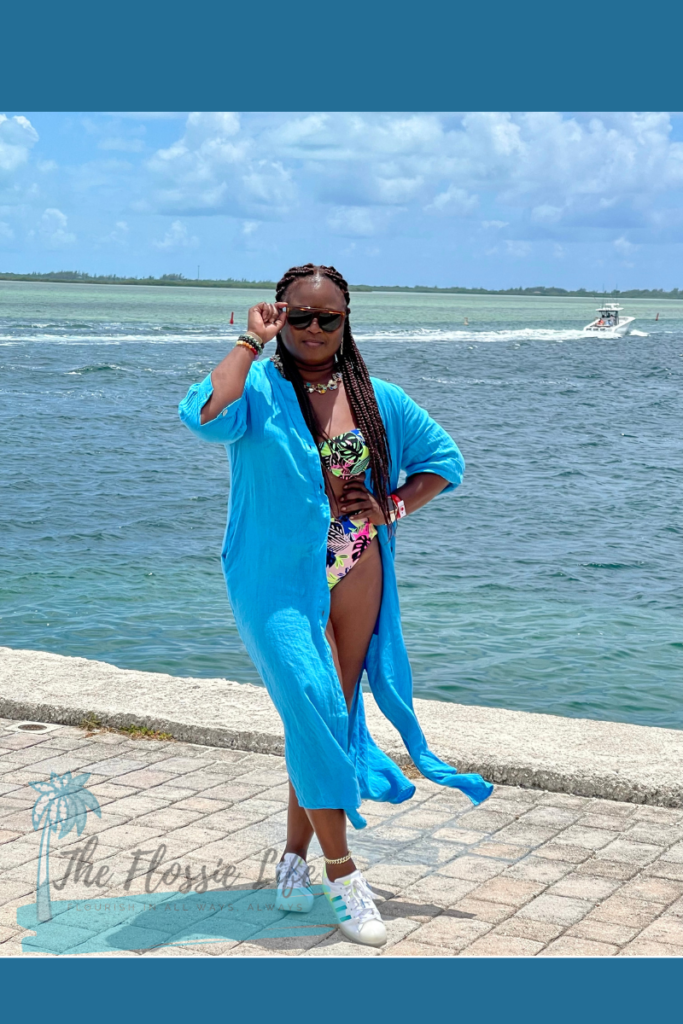 Right after checking in we were presented with the option to rent a golf cart to get around the island. The cost was about $300 for the weekend. Split between four people that would've been just $75 per person. However, when doing our pre-vacay research, we learned that Bimini is a tiny island. There is one road that circles it entirely. In a vehicle, it takes less than 15 minutes to tour the island. We figured we could walk (or take the free shuttle) anywhere we needed to go.
Also, since there's no nightlife to speak of on the island, we wouldn't need to be traveling at odd hours. So we opted out of the golf cart. But, if you like the idea of exploring on your own, you're not much of a walker and you're cool with driving on the 'wrong' side of the road; the buggy might be right up your alley. There are also informal taxis that can take you and your group where you need to go. The taxis ranged from four door cars to mini vans.
Once we freshened up and shed our travel clothes, we went to the front of the hotel and got a cabbie to take us to Bimini Big Game Club Resort & Marina. The ride for four of us was $20. The distance couldn't have been more than 2 miles. Our driver Huey was really friendly. He dropped us off and gave us his card to call for pickup or any other rides we needed for the weekend.
Bimini Beach is a short shuttle ride away. It's so magnificent that it gets its own section below.
On our last day, we had plenty of time after breakfast to go back to the room and lay down for a while before we needed to check out. At 1p, our delayed checkout time, we parked out bags with the attendant at the front desk and walked over to Fisherman's Village. Our intent was to get one more set of cute pics before we had to leave.
At Fisherman's Village there are restaurants, boutiques, a convenience store and an information center. This seems to be one of the places where people going on snorkeling and other excursions depart. The Resorts World shuttle stops at Fisherman's village, but it's only about 2 blocks from the Hilton. It was a very easy walk for us even with our heavy tote bags.
Day Partying @ Bimini Beach
The next day, the plan was to hit the day party at Resorts World Bimini Beach. It wasn't clear to me the day before, but Resorts World includes the Hilton and Bimini Beach. We'd heard that people on excursions from the cruise ships would be hitting the beach early, so we wanted to get there early and stake out a good spot. We'd considered renting a Cabana. They had beach side Cabanas, garden side cabanas and pool side ones. The prices ranged from $500 to $1000. With the cabana rental, you get a food and beverage credit valued at the cost for the rental. So, $500 would've gotten us a garden view cabana and a $500 food and drink credit. The only way that would've made sense for me is if the cost of drinks and food were crazy high. Otherwise, I couldn't see how the four of us would've eaten and drank that much.
If you're staying at the Hilton, they put a red bracelet on your wrist when you check in. The cost for access to the day party was $16 the day we went, but with our Resorts World Bimini Hilton bracelets, we were ushered in for free.
The beach club area was beautiful. The way the red umbrellas contrasted with the blue skies and palm trees was magnificent. It was very much giving exclusive, fancy and fabulous. There were several bars to get drinks and a restaurant where you could order food.
There were also waiters walking around the pool taking orders and delivering food. This was the first time we got to see the cabanas up close. I can imagine all of the fire pics I could take in them. It was at this point that my bestie and I were glad that we DIDN'T reserve one. There weren't nearly as many people there as we expected. We were easily able to procure a group of lounge chairs close enough to the DJ Booth and bar. That cabana rental fee would've been a waste of money for us, that weekend. I'm sure, on busier weekends, the cabana would be clutch though.
Right behind the huge pool area, you can see the beautiful blue ocean.
The DJ was pretty good. He played a lot of Afro Beats, Reggae, Hip Hop, and new music. It was when he played Drake's song 'Calling My Name' that I recognized that he might be a different breed. If you don't know what I mean, look up the lyrics. It was wild hearing that so loud in public. LOL I loved it!
We spent about 4 or 5 hours at the pool, dancing, taking shots, eating. It was such a fun day! Insert clips
Final Thoughts
All in all, the weekend was a lot of fun. The next time I go, I would definitely do a yacht day. I would probably go to Fisherman's Village on Friday night. It looks like they have a good time in the evenings. I would also try to come on a Wednesday and stay until Sunday. Traveling on Friday meant that we had to hit the ground running to get it all in. I would like to leisurely meander without feeling rushed and the two extra days would give me that. My bestie and I spent a combined $250 for food and drinks the whole weekend. I think that's pretty good.
So, after hearing about our weekend Jaunt, would you plan a trip to Resorts World Bimini? Have you been before? What advice do you have for us? Let me know in the comments.