Did you know that geographically The Bahamas is only about 50 (nautical) miles from Ft. Lauderdale, Florida?
Well, I didn't know. I love how close we are to so many vacation options. My sister decided that we should go to Bimini for her birthday this year. She wanted something close enough that we wouldn't have to waist valuable vacay time traveling but far enough that we felt like we'd gotten away. We booked our trip on the ferry that goes from Ft. Lauderdale to Bimini, Bahamas. The ferry we chose is called the Baleària Caribbean. I consulted my googles repeatedly and had a hard time piecing together all of the details I'd need to travel well. I've compiled all of my notes on what it was like to travel this route so that you can make the trip with ease.

Travel Prep
There wasn't much information available online about what you can carry on the boat. I was wondering if the TSA rules about what you can and can't bring onto a plane applied to the ferry. I chanced it and packed my full size luxury bath products. I'm happy to say that I had no issues. The website does tell you that you can bring a carry on up to 26 pounds and if you need to carry on a bigger/heavier bag, there is a fee to bring it aboard. I managed to pack outfits for 3 days into a small carry on rolling luggage.
Let's Go
So we start the day by driving down to Fort Lauderdale which is where the ferry departs. This is also where all of the large cruise ships leave. You have to be checked in at least an hour prior to the scheduled departure time. Our boat was leaving on a Friday morning at 9am. I was driving like a maniac to make it as we'd gotten off to a later than planned start.
TIP: If you're like me and get anxiety when traveling. Plan to arrive early so that you have time to casually park, go through customs and chill out prior to boarding.
I was so stressed out on the way. The closer we got, the harder the rain was pouring. I could barely see the back of the car in front of me! You should've seen me extra focused and gripping that steering wheel for dear life. I was very worried that we weren't gonna make it by cutoff time. When I tell you that the Girls Trip Goddess was looking out for us, I mean it. I dropped the girls off at the front door of the Balearia building, then pulled into the parking lot (which is next door) by 7:48a. My bestie and I pulled into the first spot we could find, grabbed our things and high tailed it back to the Balearia to meet my sister and check in.
TIP: Take a picture of where you park, so that if you're in a rush or overwhelmed, you can find your car when you get back.
Once you get in, you'll have to show your paperwork and your passport. This isn't a digital operation. Prior to arriving, print out your reservation confirmation. The attendant at the front door does a quick scan of your documents and ushers you into the building where you'll go through security. It's very similar to how it is at the airport where you snake through a series of cordoned off lanes until you get to the machine that scans your bags. After that we went upstairs to an enormous room where people were in lines waiting to get their boarding documents or in other lines waiting to have their documents accepted. Since we'd already printed our boarding documents, we waited in the second line, which was shorter. The attendant at this station reviewed it against what they had in their system and tore off a corner of the paper. With that we were officially, checked-in.
There were a lot of people waiting in the seating area for the boarding announcement. On the day we left, it was super crowded. We saw all kinds of people in that waiting room. The day trippers were dressed in their sexy swimsuits and cover ups, families with packages containing the things they bought while in the States and the overnighters, like us, with our carry on luggage. I also noted that most people were NOT wearing masks. My girls and I didn't want to chance catching any variants or primate poxes, so we stayed masked up. Speaking of masks, so far no one was requiring that they be worn.
The time finally came when we're allowed to board the boat and it's weird because they tell you in advance, on the website, that your bag should be 25 (or 26) pounds or less. No one checked or weighed the bags to ensure they fell within the weight restrictions. What I figured out is that the weight restriction is probably for the traveler because we have to carry it ourselves onto the boat and to our seats. That doesn't sound so bad, until I mention that just getting onto the boat and to your seat requires going up and down several flights of stairs. Some of those stairs are pretty narrow and steep. I managed to get all of my weekend outfits into a small carryon bag and I had my toiletries in a tote bag. They also don't tell you on the website that you must only bring liquids and gel items that are less than three ounces. When we travelled, nobody was checking those kinds of things so I had all my full size items which made my bag super heavy. Note to future self to pack fewer and lighter toiletries because that tote bag was heavy.
Tip: Wear comfortable shoes for this stage of your trip. Pack no more than you can comfortably carry up and down stairs. You can carry full sized toiletries, but remember, you'll be the one carrying them. You can pay extra to have a larger or heavier bag stored in the hull of the ferry.
The ferry reminds me of commuter rail trains that I've been on before. There are no assigned seats. But, there is a section for 'Premium' travelers. I'm not exactly sure what the upgrade gets you other than a seat near the door on the first level. Check out the website for more details on that. Once inside, there is a wide open space with two levels of seating. There's a store where you can buy duty free items. There is a stand where you can get drinks and snacks and such.
Disembarking & Customs
The ferry ride from Fort Lauderdale to Bimini takes about two hours. For the most part it was pretty smooth sailing. Although we could feel it moving just a little bit; it wasn't anything that was too crazy to make me seasick or anything. Once the ferry got to Bimini we were advised to wait for the day passengers to disembark. They let the day passengers off first probably because their time is limited on the island and they go through an expedited island entry process. We used that time to get some uninterrupted pictures on the deck. After about thirty minutes, they announced that the remaining passengers could begin lining up to disembark. We took our time and ended up being amongst the last set of people to get off the vessel. I was not excited to carry my bags again. We again carried them down some stairs then up some stairs and then over the ramp from the boat to the Bahamian Customs office.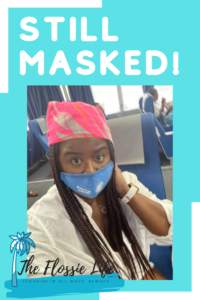 Once we got off the ferry we stood in a queue to be processed by the Bahamian Customs officials. The customs office is a tiny little space where we showed our paperwork again, our passport and then awaited a shuttle to take us from the port to our hotel. Masks are required in the customs office.
On the island there is only one hotel, the Hilton. It's falls under the Resorts World umbrella. That's interesting to note because once you get to the hotel you are waiting in a crazy line to check in once you do that you will see that Hilton has assigned a room to you. You can accept that room or select a different room. I believe that because we selected our room on the ferry, that made likely that when we got up to the registration desk to check in, our room was ready. Lots of people who maybe hadn't done that they were waiting on their room to be cleaned and prepared for them. I cannot verify that this was the case, but I wouldn't chance it in the future.
Tip: Check into your hotel via the Hilton app prior to arriving to the check in desk. Do it as early as possible. When you check in on the app, they'll assign a room to you, but you can select a different one.
The hotel was nice. It's a Hilton, not a Four Seasons. Do with that information what you'd like. It was a perfectly lovely, bright, open and airy space. I'd actually recommend this destination for first time Caribbean travelers.
The hotel is not on the beach, but it is in walking distance and easily accessible via Resorts World shuttle. The back of the hotel does overlook a canal, a small marina and other small islands in the distance. The hotel has several restaurants. Behind the front desk is a Starbucks where you can order from a 'To-Go' menu that has quick bites like pizzas, burgers, etc that you can eat at the pool or take back to your room. There is an Asian restaurant, a 'fine dining' restaurant, a casino and in the casino there is an 'American fair' type of restaurant.
There is a swim up bar in the main pool and another bar at the rooftop pool. The rooftop pool is really nice. It has an Infinity pool that allows you to look over and see the canal and part of the Marina where folks pull their boat in to visit the hotel. From this vantage point, you can also see the island of bungalows that you can rent for a week or buy. I heard a quote of like $4000 for a week which, if you have several bedrooms and you're splitting the cost among several people; might be worth your while. Especially if you can get a cook to come in and prepare your meals during your stay.
The Fine Print :
Balearia Caribbean – Roundtrip fare was about $300 when we booked (June 2022 for departure July 2022) and the package that included double occupancy hotel stay at the Hilton totaled up to about $550 per person. Go here for more info: https://gobahamasplus.com/bimini-fast-ferry-service-from-fort-lauderdale-to-bimini-bahamas/
They required proof of full Covid Vaccination. I think people that aren't vaccinated had other options.
The trip from Port to Port took about 2 hours.
In Part 2, I'll tell you all about our hotel stay and what we did on the island and I'll also show you the fabulous Bimini Beach club.
Would you do a quick jaunt to The Bahamas? Where should I go next? Tell me in the comments.